I distinctly remember being terrified of the potter's wheel. 
The method, to sheer power, the concentration – it all was a bit overwhelming for my already wrecked college nerves. Having to make art for a grade it extremely stressful, but having to make art alongside other art students (in varying ranges of skill levels) was probably worse. They could see when my forms failed. What if I was no good? What if all I could make was a mess? 
Fast forward a few years, and I find myself in a position to doing the teaching. And with each group who come in we hear similar comments and questions: "What if I don't make anything? Please don't look at mine! Mine's probably the worst you've ever seen. Is this supposed to look like this?"
Here's the secret to making any art: you've got to want it with every fiber of your being, but also be able to accept when it doesn't work. 
It is completely normal to feel nervous when trying something new. Isn't that part of the excitement of new things? But what you don't want is to ruin the moment by fretting the whole time about the end result.
When asked "what do students make in one of your classes?" the answer we give is this: you make a mess and a memory. Why? Because that's all we can guarantee and that's all that is important.
We don't offer beginner's classes expecting gallery level art  – we offer them so that we can give people a chance to do something out of their comfort zone, to shake up their personal security a bit and to give them a chance to make art. We believe that coming to one of our classes just so you can show off an expertly made cup on Instagram might be going about things the wrong way. My advice: come expecting to have a great time, and if you make something worth keeping then that's a bonus!
The fact is that throwing on the wheel is a learned skill; we have yet to meet anyone who was a true natural. That means that more than likely you will fail the first time you try it. And maybe the second and third. But you learn EVERY time, with every failure, and you get better with each ball of clay. We have been doing this for many, many years and we are still improving!
Our classes are set up to try to ease the nerves a bit, to show you the basics of throwing on the wheel, and then letting you have your chance. My husband, Carvel, leads most classes and has been throwing for well over 10 years. Each class consists of a safety briefing, usually a few solid Dad Jokes (amuse him and laugh :) ), two demonstrations from him on the basics of wheel throwing, and each student has 5 balls of clay to use throughout class. The instructor will walk around, assisting and advising where needed. And that's it! Not stressful, but super interesting, and actually a lot of fun when you relax a bit. 
Although we instruct how to make a small cup, I LOVE hearing what people end up using their creations from class as. Ring holder, ash tray, succulent holder, shot glass, bourbon cup, paper clip holder, salsa bowl, dip bowl, tea steeper; the list goes on! We love that you all are finding the beauty in your work and embracing new functions for them.
So go ahead and enroll for a class. What's the worst that can happen? You can't possibly leave class being worse at making a cup than you are right now. Grab your work friend, your mom, your husband or just come by yourself! I can't guarantee that you'll make a pot, but I guarantee that if you come in with a heart open to the experience that you will leave with a smile.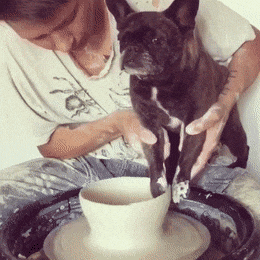 Please reload